New Orleans Style Baked Mac With Bacon + Smoked BBQ Pork Butt
---

Are you looking something to make the crowd go wild at your next birthday party, tailgate, or game night? Look no further than Hot Rod's very own, New Orleans Style Baked Mac-N-Cheese complete with BACON + Hot Rod's Creole Smoked BBQ Pork Butt. That's right, the Hot Rod's team has been in the lab working on taking the basic loaded mac'n'cheese to the NEXT level. You don't want to sit on the bench for this one.
Prep Time:

30 minutes (not including the pork butt cook time)

Cook Time: 1 hour and a half

Total Time: 2 hours

Serves: 6-8 people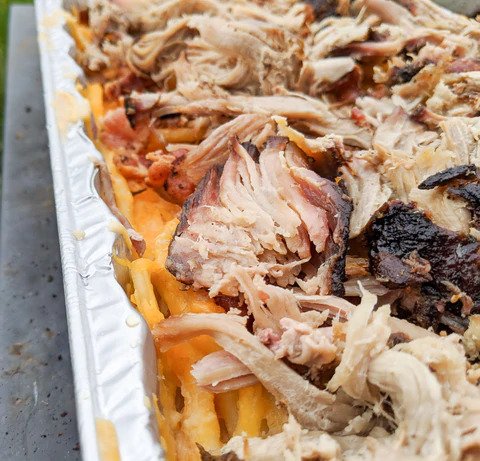 WHAT YOU'LL NEED:
13x9 baking pan (Disposable if you prefer easy clean-up)

1 pack of long macaroni

1 stick of salted butter

3 packs of shredded cheddar cheese

6 eggs

1/2 cup of milk

2 teaspoons Bayou Dust

1 pack of bacon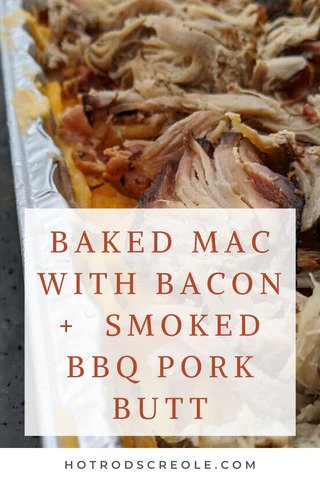 DIRECTIONS:
Get to cooking your Pork Butt. Once it is done, let it rest while you work on the layers of your macaroni and cheese. For the Hot Rod's Creole Smoked BBQ Pork Butt recipe, click HERE!

Preheat your oven to 225 degrees Fahrenheit.

While your oven is preheating, cook long macaroni to al dente.

Once your macaroni is done, drain out the water and start to layer the bottom of your disposable 13x9 pan. Keep in mind there are a few layers to this bad boy, so just use enough to get a good base.

Cut the stick of butter into squares. Layer half of the stick of butter over the macaroni and sprinkle with 1 ½ bags of the shredded cheddar cheese.

Add in another layer of macaroni, butter, and the rest of the cheese.

In a bowl mix the eggs, milk, and Bayou Dust.

Pour the liquid mixture over the layered mac and cheese, make sure to get equal coverage. Place the layered dished into the fridge to let everything soak into the macaroni for 30 minutes.

Put in the oven for an hour - 1 hour and a half or until fully cooked through.

While the mac'n'cheese is baking, fry up a pack of your favorite bacon. Once the bacon is done, chop it up and sprinkle over the top of the macaroni when it comes out.

Pull the pork and spread that goodness all over the mac'n'cheese and voila!

To finish, pour some Hot Rod's Creole BBQ Sauce on top or serve on the side.